Illustrative masterplan
The proposals are for developing and operating the Rail Central SRFI and delivering various associated highway upgrades and environmental investments.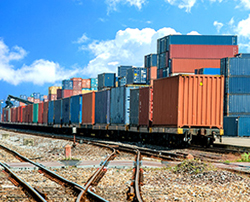 About the illustrative masterplan​
The final layout of the units will be determined by market demand but will remain within the limits of the parameters plan. Please note there are two versions of the illustrative masterplan: the preferred illustrative and the alternative illustrative masterplan.Draft versions of both illustrative masterplans were published for consultation at the Phase Two Consultation in March 2018. Updated versions were subsequently published for consultation at the Phase 2a: Localised Consultation in June 2018. Please visit the Project Library to view these plans.
Key design principles of the configuration of the site
The site would be split into zones of storage and distribution warehousing and associated areas for parking, servicing and landscaping
Zones would be laid out to provide direct rail links to warehouses (West Coast Main Line and Northampton Loop Line)
The perimeter of the site will be extensively landscaped to provide visual screening and a green setting for diverted a