What is an SRFI?
A SRFI is a large rail served distribution and warehouse park linked into both rail and the strategic highway network.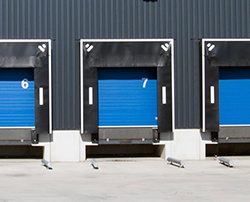 The aim of an SRFI is to optimise the use of rail in the freight journey. SRFIs are key to reducing carbon emissions in the supply chain, educing the cost of movement and increasing the efficiency and speed of movement.
It includes specialist buildings and sophisticated facilities and equipment for handling goods, typically arriving in containers.
If you've bought wine from New Zealand, electronics from the Far East or furniture from Scandinavia then chances are it's come by container and more than likely has passed through a SRFI.
The purpose of an SRFI is to maximise efficiency and sustainability in how goods are moved from the point of supply to the point of demand. A typical SRFI has warehouses connected to rail lines and terminal facilities to handle freight containers.
The Government provides this definition of a SRFI:
"A Strategic Rail Freight Interchange (SRFI) is a large multi-purpose rail freight interchange and distribution centre linked into both the rail and trunk road system. It has rail-connected warehousing and container handling facilities and may also include manufacturing and processing activities."
National Planning Statement for National Networks (NPS NN), 2014
SRFIs typically have logistics and commercial buildings that are both directly rail linked (ie there is a physical railway connection direct to the building) and also rail served (ie hey are able to handle goods moving to and from the rail terminal using special vehicles but they are not physically connected to the railway).
The overall benefit of both types of connection is that these buildings facilitate and encourage the use of rail in line with Government policy.
As well as meeting national policy and demand from businesses looking for the best supply chains, SRFIs contribute to environmental objectives by reducing the overall amount of freight road miles and reducing CO2 emissions (moving freight by rail compared to road creates significantly fewer emissions per tonne of freight moved).
Why is this needed?
Transporting goods and products around the country effectively and efficiently is crucial for the economy, for competitiveness, and for the environment.
Connecting manufacturers and suppliers to consumers quickly, safely and sustainably makes a big difference.
This is something the Government is encouraging through its planning policies (i.e. the National Policy Statement on National Networks).
Using rail to transport a greater percentage of UK freight is at the heart of the Government's vision for overall freight distribution. This means building more capacity and better facilities to encourage a shift from road-based logistics to seeing more freight travelling on the national railway network.
Why this site?
Government policy (the National Networks Policy Statement) supports additional development of rail freight interchanges to drive the shift towards more goods travelling by rail.
On this site, the West Coast Main Line and the Northampton Loop Line cross close to the M1, with direct access to the M1 by the A43.
This connectivity and the meeting of these three major transport routes make this a highly suitable location for a strategic rail freight interchange.