Community Engagement
In April to October 2016 we held our first phase of formal public consultation, during which we held a series of public exhibitions and invited feedback on our draft plans. We are currently preparing updated plans and expect to hold phase two formal consultation early 2018.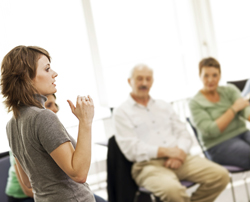 The process
The NSIP planning process specifically requires Ashfield Land (as the applicant for Rail Central) to carry out statutory consultation as defined by a document called a Statement of Community Consultation (SoCC). The SoCC essentially prescribes how, when and where consultation will take place ensuring that it is straightforward for people who want to participate, whatever their views. South Northamptonshire Council, Northamptonshire County Council and Northampton Borough Council have been consulted on the SoCC, have provided input to the proposed approach and approved it. We are undertaking a comprehensive programme of public consultation in line with the requirements of the NSIP planning process.
Phase One formal consultation
Consultation information was presented to the public at the first round of public exhibitions from 28 April 2016. Technical experts including our architect/masterplanner, highways engineers, landscaping consultant and others were at the public exhibitions to help answer questions. Information on the consultation and the dates, times and venues for the public exhibitions was publicised widely. Please see further details in the Consultation information leaflet here.
Later in the summer, we published updated illustrative plans and new visual material as part of the Phase One community consultation. This first phase of consultation ended on 21 October 2016. In Spring 2017, we published an update on the feedback submitted at Phase One consultation in the community newsletter. It included a summary of the feedback from Phase One consultation, how that feedback is being used to develop the plans, and the progress of technical work.
Phase Two formal consultation
Feedback from Phase One consultation has helped us to shape the plans, contributing to the design process alongside the outputs of our technical work and surveys. We have carried out and completed a full spectrum of technical work, such as ground surveys, environmental and ecological assessments and highways assessments and are progressing with updated plans.
In September, we published the Autumn 2017 community newsletter, which provided an update on the progress of technical work, our programme and what is happening next on consultation.
Phase Two consultation is expected to take place early in 2018.
At Phase Two Consultation, the updated plans will be published showing how the proposals have developed since our Phase One Consultation. Information on this round of consultation and the dates, times and venues for the public exhibitions will be publicised widely to all relevant stakeholders and the local community.
In the meantime, consultation with key stakeholders has been ongoing on an informal basis through regular meetings to update on our technical work and to respond to any queries. We will continue to engage with local communities and their representatives throughout the consultation period and beyond.