Managing local impact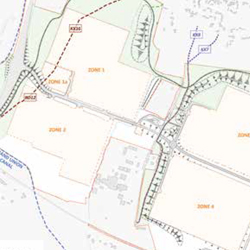 OVERVIEW
The impact Rail Central might have on existing local residents was one of the common issues raised at the Phase One consultation. Since then, the team has conducted extensive surveys and other investigations on issues such as noise and light, which are particularly important for a development that will operate 24/7. This work has helped to inform an overall strategy that seeks to minimise the impact the development will have on existing local communities in Milton Malsor, Blisworth and the surrounding area through various mitigation plans.
In addition, we have developed our approach to how existing footpaths will be diverted to help maintain attractive walking routes across the site. Other local impacts, such as highways and views, are covered on separate panels and detailed further in the PEIR and Non-Technical Summary, which have also been published as part of this consultation.
FOOTPATHS
As part of the plans, three existing footpath routes across the site will be diverted to retain connections between Blisworth, Milton Malsor, Collingtree and the Grand Union Canal. Blisworth and Milton Malsor will be linked by a new footpath and cycleway that will provide an off-road link through landscaped areas, adjacent to Northampton Road.
The route between Collingtree and Blisworth will be diverted around the eastern edge of the site, while the link between the canal and Milton Malsor will run around the western edge within a landscape corridor. This footpath will form a new link into the diverted footpath running between Milton Malsor and Collingtree.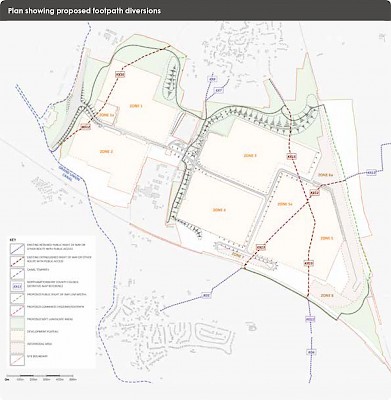 NOISE
Our studies show that noise from the site is unlikely to be heard by residents in Milton Malsor and Blisworth during the daytime, although activity from the intermodal platform might be heard during particularly busy periods. At night the noise may become more recognisable as road traffic decreases, however it is not expected to be significant in the villages of Milton Malsor and Blisworth.
The levels expected at night will be similar to those found in a quiet suburban area. Extensive acoustic screening and bunding (earth mounds) are incorporated into the scheme in order to reduce the level of noise being heard.
LIGHT
As Rail Central would operate 24 hours a day and 7 days a week, external lighting would be carefully structured and managed to minimise glare towards residential areas, light spill and sky glow.
The detailed specifications will be determined at a later date.
Further details and plans of the noise and light assessments and mitigations are available in the draft PEIR documents on this website.
MANAGING CONSTRUCTION
The construction of Rail Central is due to start in 2019, subject to planning. The development will be built in phases, starting with the access road from the A43 and staff compound, followed by the internal roads and intermodal rail connection facility. Construction is scheduled to take ten years with the first warehouses opening in 2021.
A Construction Environmental and Management Plan (CEMP) will be produced, detailing how construction will be managed to minimise the local impact. All access will be from the A43 and no traffic will be allowed to use village roads. Further details are available in the draft PEIR, which is available as part of this consultation.