Landscaping and the environment
A comprehensive landscape strategy has been developed to provide a careful approach to managing the effect on the local environment.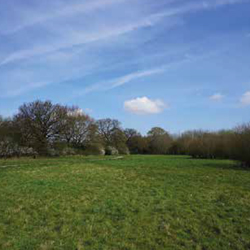 This strategy is informed by technical environmental assessments in relation to landscape and visual impact, water resources, biodiversity, acoustics and lighting. This panel explains our landscape and biodiversity strategies, with acoustic and lighting covered later.
THE HABITAT
We have undertaken extensive field studies to understand the ecology of the main site, J15A of the M1 and surrounding area. From this we know that the site is used by farmland birds, bats, owls and small mammals and has veteran trees and a network of hedgerows. We have developed a strategy to create and enhance the retained habitat where possible:
• Provide 116.7 hectares of landscaped areas and pocket parks, primarily as a mosaic of woodland, species' rich grassland, scrubland and amenity landscape focusing on interconnectivity between different areas of the site, providing vegetation and biodiversity
• Install 'attenuation ponds' in three locations at the north of the site to manage surface water runoff and support wildlife
• Direct light away from natural habitat areas especially the Grand Union Canal
• Divert the local watercourse, known as Milton Malsor Brook around the development and enhance its biodiversity
• Creation of 3.2 hectare park on the western side of the A43
• Creation of 26 hectares of ecological mitigation at land to the south of J15A of the M1
• Restore barns at Barn Lane to encourage bats and owls to roost and nest. There will also be new roost boxes for bats and barn owls throughout the site. We are exploring potential opportunities to manage this with the Wildlife Trust
GREEN CORRIDORS
The structural landscape will look to create a variety of biodiverse and ecologically rich landscape zones that will provide habitat, both for animals already found within the site, and new species not currently present.
In total there will be 7.2km of new green corridors that will aim to mimic the existing field edge vegetation linking up approximately 34 hectares of new woodland planting.
The largest will run alongside Northampton Road. There will also be 17 oversized culverts under the development to link up the site.
TREES AND HEDGEROWS
Existing trees and hedgerows are being retained where possible. We have carried out a veteran tree survey across the site which identified 26 veteran trees, one notable tree and 17 locally notable trees that would require removal to enable the development on the main SRFI site. One further locally notable tree would require removal to facilitate J15A works.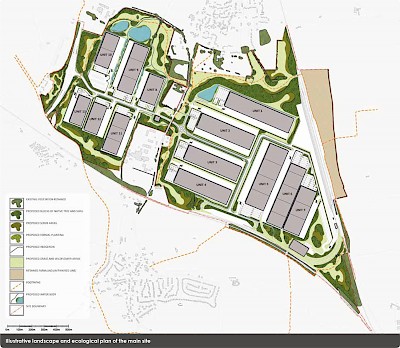 LANDSCAPING AND ECOLOGICAL MITIGATION AT J15A OF THE M1
In addition to landscaping at the main site, 26 hectares of land south of J15A will be provided with additional hedgerow planting, woodland and scrub areas, field edge ponds, habitat provision for ground nesting birds and grazed wildflower areas. Deadwood from felled veteran trees on the main site will be used in a variety of ways to create additional habitat. This area of habitat will form close links with the canal and adjacent potential wildlife sites.