Highways
Managing access and highways connectivity are vital ingredients for a successful SRFI. The Rail Central proposals include a £26m programme of key road improvements to accommodate an increase in local traffic.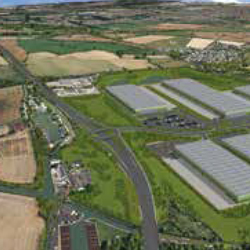 This will include amended junctions, extra lanes and new traffic lights, all of which will be funded by Rail Central.
The package of highway investments and transport solutions that form part of Rail Central's plans are the result of several years' work with Highways England (HE) and Northamptonshire County Council (NCC), including using the Council's new Strategic Transport Model (SATURN model), as well as conducting an extensive programme of surveys and technical assessments.
This work allowed us to forecast how much traffic Rail Central could create, evaluate which roads vehicles may use, and to subsequently plan improvements to the highway network to ensure traffic levels are managed effectively.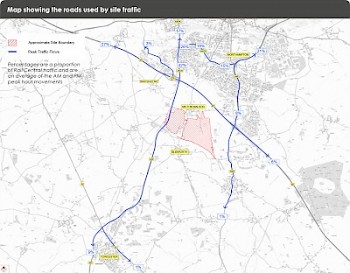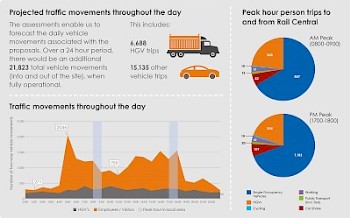 TRAFFIC MODELS AND ASSESSMENTS
To calculate the number and type of vehicle trips associated with Rail Central, we used the trip rates associated with East Midlands Gateway SRFI, and the GB Freight Model, which forecasts national freight movements. This was then applied to NCC's SATURN model. This assessment showed where Rail Central may have an impact on the road network. This then determined what improvements would be needed. The methodology and findings have been agreed with Northamptonshire County Council and Highways England.
Improving the local highway network
A large-scale highway improvement project would be undertaken as part of the delivery of Rail Central to ensure that the local road network can accommodate future traffic flows.
The investments will improve the capacity of 15 junctions. These works would ensure that motorists would continue to use the major road networks and not seek alternative routes on minor roads. In addition to this, we are also proposing works at two other junctions, and a potential financial contribution towards a third, for road safety improvements. A separate NSIP application is required for J15A, due to the scale of our proposals.
The programme of improvements has been designed following rigorous assessments and modelling, the principles of which have been agreed with Highways England and Northamptonshire County Council. The proposed improvements are designed to mitigate the impact of Rail Central on the operation and safety of the highway network, but by their very nature, would also provide an overall benefit to existing road users.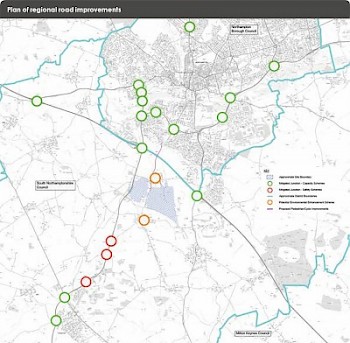 MAJOR JUNCTION IMPROVEMENTS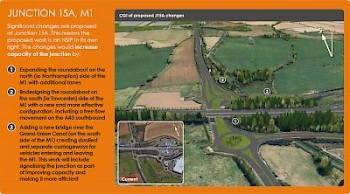 In addition to our work on junction 15A of the M1, we are proposing changes to 15 junctions within the local and wider area to improve the capacity of the network. Most are minor in their form, but the more significant changes are to:
Tove roundabout (A43 / A5, Towcester)
Redesigning to provide an enlarged roundabout, with additional lanes on the A5 North and A43 South approaches
Abthorpe roundabout (A43 / Brackley Road, Towcester)
Existing lanes on the Brackley Road approach and A43 exit will be realigned and an additional lane will be added to the A43 North approach