Community benefits
Responding to national need, Rail Central is also being designed to deliver investment locally. We want to maximise the opportunities for Rail Central to contribute at a local and regional level.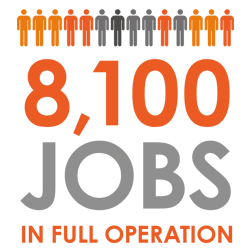 EMPLOYMENT & TRAINING
Rail Central would be a major employer. It would generate significant new jobs both in construction and during operation. The logistics industry is a dynamic and important part of the regional economy and provides a wide range of skilled roles and opportunities for career development. More information is available in the socio-economic chapter and headlines of this include:
Approximately 410 full time equivalent (FTE) jobs every year during the 10-year construction period
Approximately 8,100 FTE jobs at full operation
Support around 12,400 FTE jobs directly and indirectly
Commitment to skills and training: Rail Central will work with occupiers, further education, higher education and training providers to develop effective partnerships and training initiatives. We will fund programmes and we will support schemes that provide local people with the knowledge of, access to, and the skills needed to be part of the logistics industry and benefit from the wide range of skilled jobs on offer. As part of this outreach, Rail Central would offer an on-site training facility to support therunning of training initiatives. This would link in with a wider network of opportunities and training on offer through Gazeley GLP's Logistics Institute of Technology Hub initiative.
LOCAL ECONOMY
Rail Central responds to Government policy and business need.
It will also deliver valuable financial and economic benefits locally. Operation of Rail Central will add:
£555.6 million in GVA to the national economy each year, including a £169.1 million contribution to South Northamptonshire's economy
Around £14.8 million in business rate revenue each year, of which South Northamptonshire Council is currently able to retain half (£7.4 million)
LOCAL AMENITY INVESTMENT
We have looked at how we can directly or indirectly benefit landscaping and local amenities. Some aspects are within our control (e.g. our approach to substantial landscape screening and planting throughout the main site) and we are also proposing initiatives for off-site and wider benefits. These include:
A substantial financial commitment for an off-site landscaping fund: this could be drawn down by individual householders and property owners and provide a way to finance planting off-site. This additional planting and landscaping could further reduce visual impact from the development
A new footpath and cycleway providing an off-road link between Blisworth and Milton Malsor through landscaped areas
An on-road footpath and cycleway along Towcester Road to the southern edge of Northampton
A total of £26m invested in local highway improvements, including at Junction 15A of the M1
New local bus services for use by employees accessing Rail Central and the general public, providing better overall transport services within a sustainable travel plan This list is not exhaustive and additional initiatives are being explored.
WIDER BENEFITS – WHAT DO YOU THINK?
In addition to the benefits listed above, we are exploring other ways through which Rail Central can deliver benefits locally and more broadly. We're interested in local views and, as part of the phase two consultation, invited residents and others to provide their ideas or recommendations. We continue to welcome suggestions, which could, for example, involve initiatives linked to education, to community facilities, to landscape and public spaces or to heritage. If you do have any ideas or recommendations, please contact us to let us know. There is the potential for Rail Central to fund or help deliver wider benefits that can be linked to the development.