Approach to design
We have adopted a design approach that ensures the scheme responds appropriately to its setting.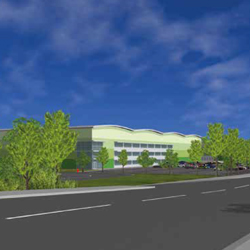 We have assessed the site to develop a high-quality and sustainable design that mitigates and balances the impact of the development.
Committed to delivering high quality, we have adopted a colour palette of pastel green colours, chosen a select range of building façade materials and carefully arranged screening around the site. This approach will minimise the visual effect and create a sense of identity and setting.
EVOLUTION OF DESIGN
In response to feedback at Phase One consultation, a number of changes have been made to the design. These include:
The reduction of overall floorspace and reorientation of warehouse units in the illustrative masterplan to reduce visual impact
Enhanced bunding and screening around the development
Enhanced green corridor parallel to Northampton Road to create a landscape and cycle footpath linking the villages of Blisworth and Milton Malsor
The removal of direct access to thesite from Northampton Road
Connecting the east and west sections of the site with an underpass at Northampton Road
The removal of proposed development at land west of the A43 for a hotel, restaurant or training and innovation centre. The land is safeguarded to provide ecological mitigation and an informal pocket park
Ensuring diverted or rerouted footpaths preserve their accessibility and character. Around half of the landscape around the site will be publicly accessible amenity land
PRINCIPLES OF DESIGN
Sustainable and high quality design
The development is sustainably designed to reduce water use and energy consumption during occupation
Robust design and high quality materials that will exceed Building Regulations and secure 'very good' BREEAM rating as a minimum
Design creating a strong identity throughout the development for occupiers
Building colours and textures
Neutral colours including greys and graduated greens for the façade and roof
Materials include colour-coated metal cladding with minimal articulation to provide simplicity
The external building height will be a maximum of 18.5m
Site screening
Landscaped areas with trees and shrub planting is used to naturally screen the development
Earth mounding is used at key viewpoints to enhance screening, such as at Northampton Road